Ways to Eat Healthy on a Budget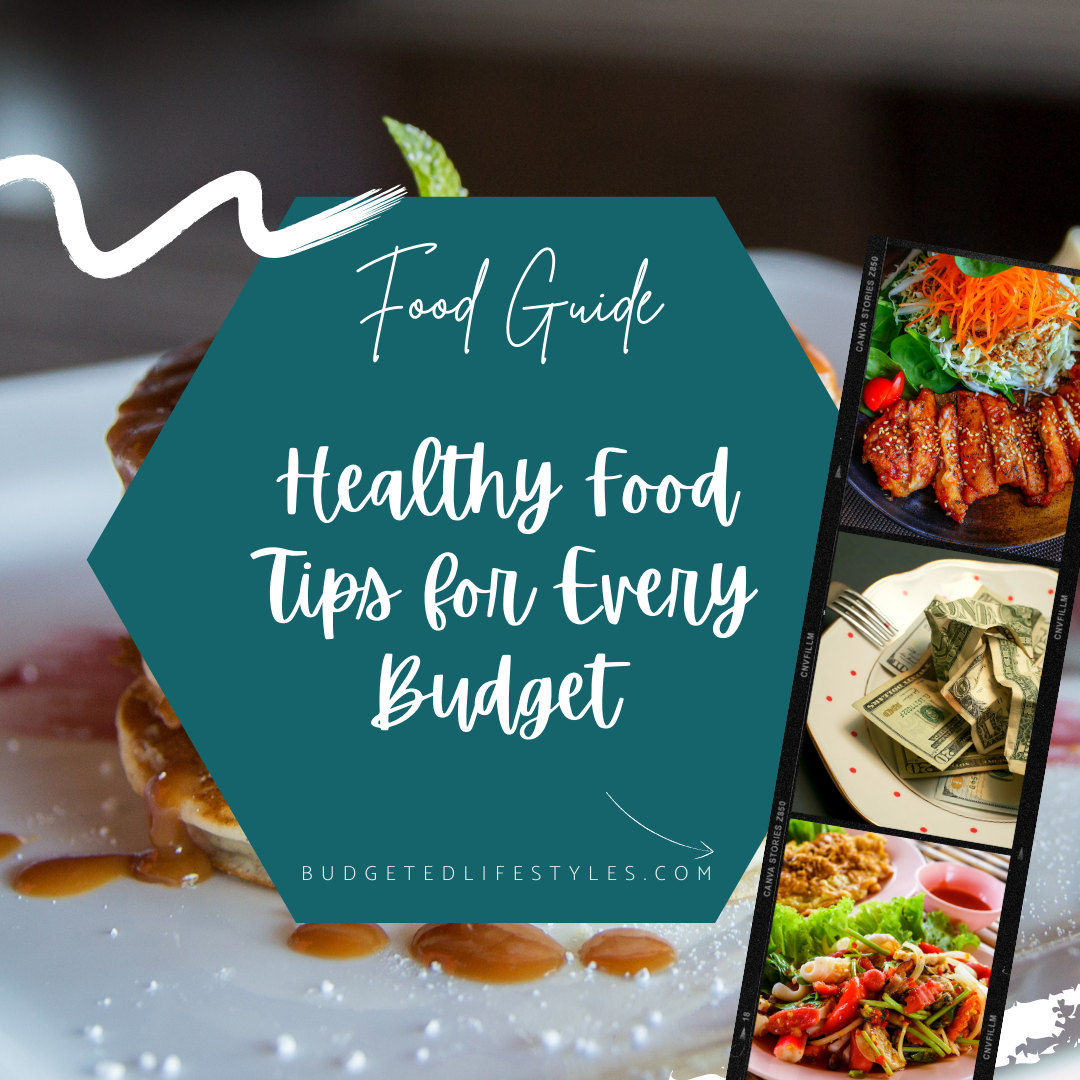 Healthy eating is a more authentic, rewarding, and nourishing way to live. In today's fast-paced world, we are all pre-occupied with trying to meet deadlines and other personal obligations. It is literally impossible to eat healthily when you're on a tight budget. Don't be discouraged, there are many ways to save money and eat delicious nutritious meals.
---
Here are 5 ways to eat healthy on a budget.
No More Junk Food
Cut, Cut, Cut! Cutting out junk food is important. Research shows that junk food offers very little nutrition and is packed with unhealthy ingredients, and over time they are very expensive. Most people are shocked to see how much they pay for soda, quick juice mix, and processed foods. By eliminating processed and unhealthy foods, you can spend more of your budget on higher-quality healthy foods.
---
Plan Your Meals
Who knew healthy eating could be so simple? Having a game plan when it comes to spending less time in the kitchen, lose weight, save money, or simply eat healthier is essential. Meal prep is a convenient and practical option.
If your budget is tight, carrots, cabbage, tomatoes, squash are a cheap and nutrient-dense vegetable to include in your diet and meal-prep. Trust us, these will add a little spice to your plate. Yum!
In addition to adding these affordable veggies to your meals. We strongly recommend adding grains and legumes. Brown rice, oatmeal, and green beans are fantastic, cheap food that provides fiber, vitamins, and minerals. They can be purchased for an average of only $0.50- $3.00.
---
Bonus Tips
There are plenty of affordable foods you can purchase that are healthy and easy to add to your diet.
Broccoli is a cheap vegetable with an average price of less than $2.00 per head, and it provides some of almost every nutrient that you need.
We love mixing spinach and other vegetables together. Like other leafy, green vegetables, spinach also contains beneficial plant compounds. They have the ability to reduce inflammation and prevent cell damage.
Potatoes are a very good and cheap option. They provide an impressive amount of vitamins and minerals that have many health benefits.
Fruits like apples – They are an easy, convenient food to add to your diet and commonly consumed as a snack or chopped into a salad. Delish!
Eggs are one of the most nutritious foods on the planet, and they are very affordable at an average price of $2 a dozen.
If you are a chicken lover like us, including chicken breast in a healthy, balanced diet has been shown to help reduce the risk of obesity, heart disease, and diabetes.
Want to add some protein to your diet? Try including fish. Not only is fish high in protein it's also high in omega-3 fatty acids, which are important for brain health and reducing inflammation. You can pair canned fish(cheaper than fresh fish) with salads, sandwiches, crackers, and avocado or use it in several dishes, such as seafood cakes and stir-fries.
Last, but certain;y not least! Try including some Yogurt in your diet and a snack or used to make milkshakes etc. Yogurt is nutritious, budget-friendly, and found in most stores for $2–3 for a 32-ounce (1 kg) container.
---
Get started with these books for recipes and awesome meal prep ideas. Click on the image for more info.
The Healthy Meal Prep Cookbook provides three 2-week meal plans and dozens of recipes so you and your family can savor nutritious, delicious, homemade food even on your busiest days.
This is a great way to start your meal prep journey, especially on the go. Control portions, eat healthier and save money with JAXX FitPak, always BPA-Free. The original FitPak includes everything you need; a durable, insulated bag, (4) 2-cup, and (2) 1-cup reusable portion control containers, a shaker bottle, an ice pack, and a vitamin case.
---
Bulk Purchasing
Buying some foods in bulk quantities can save you a lot of money, and time. Many foods are available in bulk for a way lower price such as grains, nuts, and beans. You are not paying for excess packaging so you should find it cheaper than buying similar items at the supermarket.
By shopping at bulk food stores you will reduce both your packaging waste and also your food waste. Making the switch to buying in bulk will make a dramatic impact on your weekly waste and encourage you to be more mindful of your consumption choices in general. You will have food for months with the right meal-prep.
Our favorite bulk items, free of artificial colors, flavors, and preservatives.
---
---
Shop Consciously
When eating healthy and purchasing groceries it is important to shop consciously. This helps you to think about your food waste and the amount of packaging being used. Before you know it you will be thinking of ways to shop more conscientiously in every aspect of your life!
Becoming an aware shopper and budgeter makes a huge difference in your budget and also encourages and inspires those around you to make changes in their own lifestyle towards a healthier one!
---
Use Coupons Wisely
Using coupons wisely is a great way to save money. There are coupons available for food products, cleaning products, and health products. We recommend stocking up on products that have the highest coupon value, that way you can spend more of your budget on healthy foods.
Being able to use coupons gives you the versatility to try new products as you can sample small sizes of them before investing in more. With no minimum purchase of anything in store, you can also buy small quantities of various items to make up things like your own granola or other meals- so you can be more creative in the kitchen!
Want to get organized? We recommend using tall and durable plastic dividers. Stretchy elastic sides – fit more coupons and search them more easily. Features a crisp, clear, vibrant design.
---
---
---
With the right amount of preparation and planning, you are able to cook your nutritious meals at home and make smart choices at the grocery store to save money. Because you can buy exactly what you need, you will no longer have old packets of half-used products sitting in the cupboard!
These are our best tips for eating healthy on a budget. We hope you all enjoyed this post! We had a great time rounding up these affordable products and tips for you, and you've now got your inspiration, let's start.
---
---
Did you find the strategies listed in this article helpful? What are some of your ideas? How have they worked for you? Let us know in the comments.
If you did love this post, be sure to subscribe or Get In Touch(on desktop) or scroll down (on mobile)! Not ready to commit like that? Follow us on one of the social media platforms to never miss out on anything over at BudgetedLifestyles!
If you enjoyed this article, share it with your friends, on Instagram, Pinterest, or Facebook. Thank You!
Need more help? Contact us budgetedlifestyles@gmail.com or DM @budgetedlifestyles.
---
---
**This blog contains affiliate links, but all opinions are our own and we would not promote products that we haven't either a) tried ourselves or b) done our research on! Please see our disclaimer for more information.**