Financial Freedom Vision Board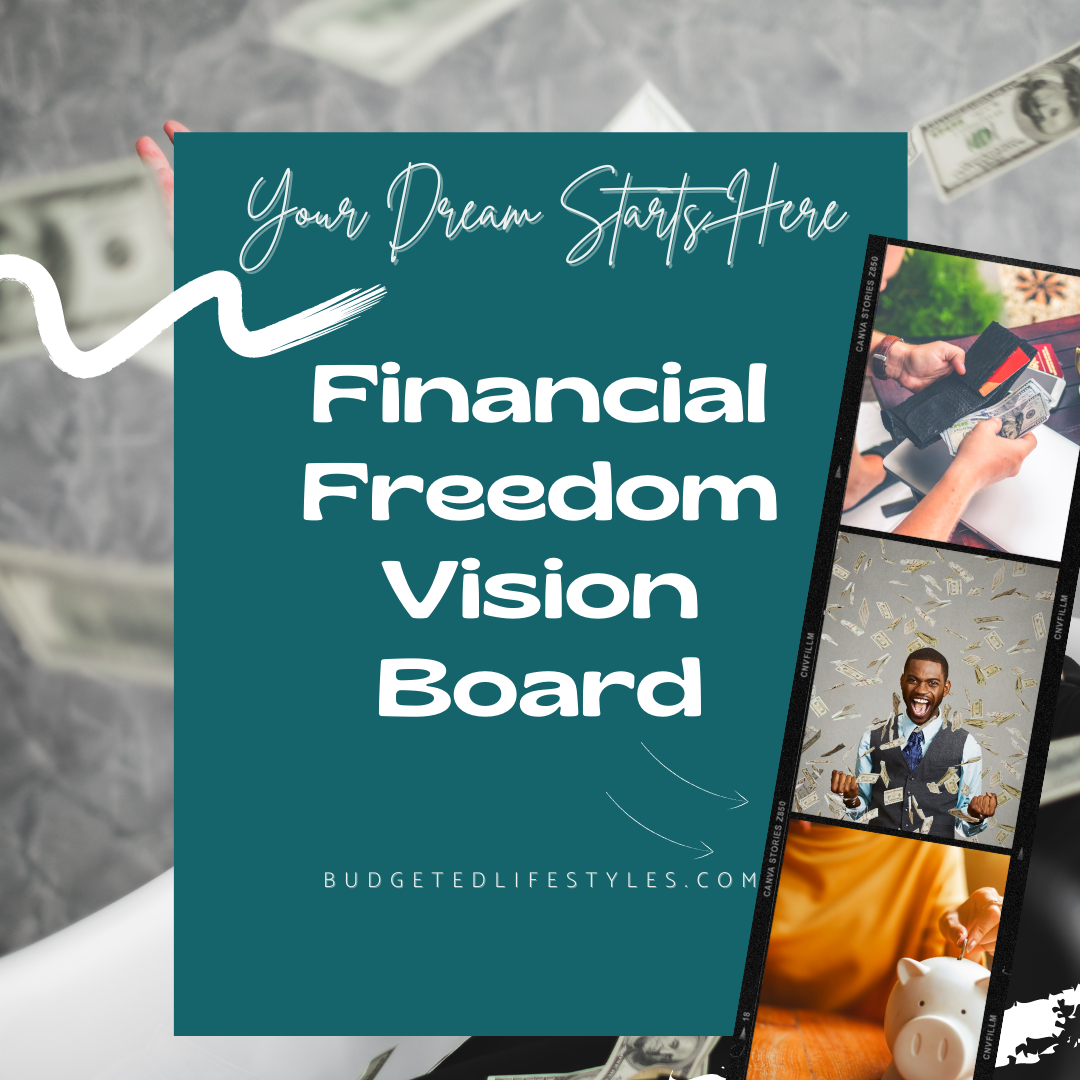 Financial Freedom. What does it mean to you?
Living a luxurious lifestyle and having financial freedom is a goal shared by many people for a great reason. Financial freedom gives you options in your life. money gives us the freedom to become masters of our own reality. It means more money on our terms!
If you are like us and share this goal, making a financial freedom vision board provides the perfect opportunity in achieving this goal and a great way to help you stay focused.
A vision board is a visualization tool that refers to a board of any sort used to build a collage of words and pictures that represent your goals and dreams. By placing visual representations of your goals into one space, you can easily visualize them frequently.
---
Let's take a look at what financial freedom looks like:
Financial Freedom Steps
The ultimate goal is financial freedom. Financial freedom to us is zero debt and living a luxurious lifestyle on a budget. Sure, we will still have financial obligations with utilities, and normal everyday living but it will be on our terms. We are in more control of where our money goes instead of being financially constraint.
Financial freedom is building up an emergency fund. Ideally, we recommend a savings of at least 3 to 6 months of your current salary. This will include paying off any credit card debt as well.
---
Financial Freedom is accumulating enough money to be able to take some time away from working is a huge step in the right direction. In doing so, you are able to focus on your side hustle or projects. In light of recent events, if you need some time to readjust or refocus, you may want to save up for a sabbatical or extended vacation.
---
Financial Freedom is having enough money to retire comfortably or retire early. What would you need to maintain your standard of living in retirement? Knowing you are on track to accumulate the right amount of money to support that lifestyle is a big win.
---
Financial Freedom is having more than enough money in your lifetime. Your financial freedom plan will allow you to outlive your money. Having more money than you expected to spend is great. Building enough wealth so that you could not possibly spend all of it is a new level. Plus, that an amazing legacy to pass on to your family.
---
Goal setting with Vision Board
The best way to achieve your goals is to keep them top of mind, so you are always looking for ways to move closer to them – and a vision board is a perfect tool to help you do that. By putting a vision board somewhere, you can see it every day, you will prompt yourself to visualize your ideal life on a regular basis.
---
Law of Attraction Life & Goal Planner – Learn How To Set Big Goals and achieve them by improving your time management – Follow the same methods millionaires and billionaires around the world follow to set goals and achieve them. You will be amazed by the results if you follow the 8 steps in this planner!
---
Process for Making Empowering Financial Vision Boards
Create a list of financial goals you would like to achieve in the next 6 months or year.
Pictures are inspirational- Find pictures that represent your goals and inspire you.
Motivational or Financial words that represent where you want to go and how you want to feel.
Always review your financial vision board, make any changes you see fit.
---
Vision Board Kit – Create a Board of Your Ambitions with +60 Vision Board Supplies- Designed to generate emotions of having achieved goals and stimulate your subconscious mind to start to work tirelessly towards those goals. These Vision Board supplies will massively transform how you think and manifest.
As time goes by, look at those images that represent your achievements. Achievement of the goals in your vision board is a powerful visual reminder of what you have already consciously and deliberately worked towards.
Your goals, ambitions, and dreams have probably already been achieved by someone else. And even if nobody has achieved your specific goal, the fundamental mindsets of success remain the same.
By listening, learning, and implementing advice from successful people, we put ourselves in the best position to achieve what we want. Keep going!
---
Use these tips as motivation to keep moving towards your most important financial goals. The beauty of it is that you can put the work in once and reap the benefits over the long-term. Tell me that doesn't sound better than trading your time for money!
Who knows what the future holds and how close you are to your financial freedom. Let's get started on our financial freedom vision board today.
---
These are our best financial freedom vision board tips. We hope you all enjoyed this post! We had a great time rounding up these inspirational tips for you, and now The Vision Board Party is on!
---
---
Did you find the strategies listed in this article helpful? What are some of your ideas? How have they worked for you? Let us know in the comments.
If you did love this post, be sure to subscribe or Get In Touch(on desktop) or scroll down (on mobile)! Not ready to commit like that? Follow us on one of the social media platforms to never miss out on anything over at BudgetedLifestyles!
If you enjoyed this article, share it with your friends, on Instagram, Pinterest, or Facebook. Thank You!
Need more help? Contact us budgetedlifestyles@gmail.com or DM @budgetedlifestyles.
---
---
**This blog contains affiliate links, but all opinions are our own and we would not promote products that we haven't either a) tried ourselves or b) done our research on! Please see our disclaimer for more information.**
---
Transforming your future and earning your financial freedom through the implementation of S.M.A.R.T (Specific, Measurable, Attainable, Realistic, and Timely) based goals. @budgetedlifestyles