8 Real Money-Making Fun Activities From Home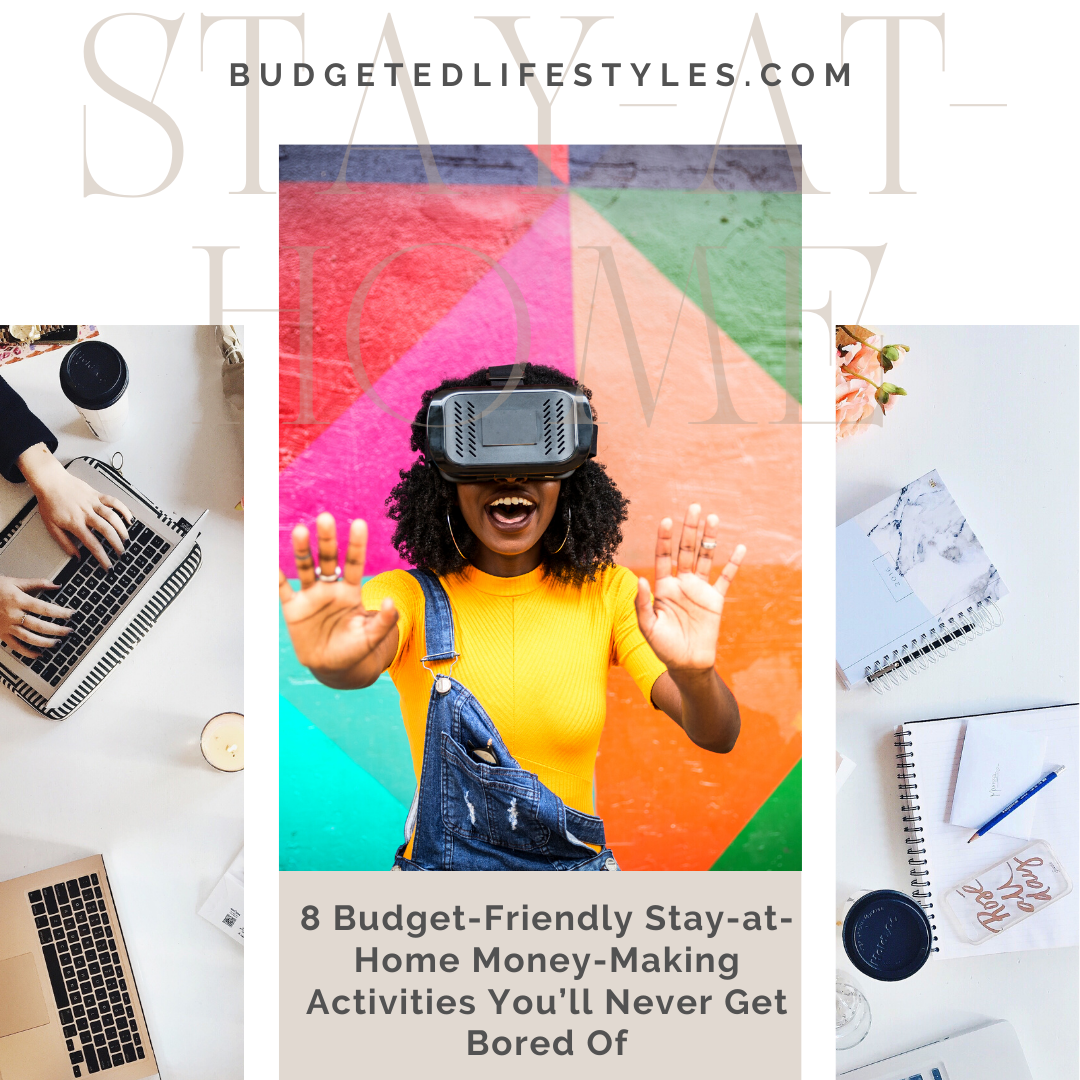 After this generation's worst social, economic, and political lockdown, many of us yearn for normalcy, with a pent-up desire to re-enact budget-friendly activities that the lockdown took away from us.
When there is no work to be done, we must plan our daily activities to avoid boredom and become more productive. Why not earn some cash with these 8 Real Money-Making Fun Activities From Home? It will take some trial and error to figure out what works best for you, and you must be motivated to keep going even when you want to give up or when others question your choices.
Here's a practical list of 8 Real Money-Making Fun Activities You Can Do From Home:
---
1. Immerse yourself in new exercise activities while earning real money
If you're anything like us, you'll enjoy exercise. Exercise has a variety of health benefits, including improved cardiovascular health, lower blood pressure, blood sugar regulation, weight control.
With the new way of life, providing exercise services virtually as a source of income can be advantageous. The internet, social media, and other platforms provide limitless opportunities to showcase your talent and earn real money. Trust us when we say that this is one of the Stay-at-Home Money-Making Activities You'll Never Get Bored Of.
---
2. Earn Real Money by Taking Part in Virtual Karoke
Looking for a new way to entertain at home and make money? Virtual karaoke allows you to enjoy karaoke club and bar-style entertainment in the privacy of your own home.
Furthermore, if you want to make money with your talent, you don't have to become a recording artist, sing at weddings, or compete in karaoke contests. If you enjoy singing as a hobby and would like to earn a little extra money from it, there are numerous opportunities to get paid to sing from home. For instance, a YouTube channel, a music blog, or freelancing services.
We recommend trying these products:
---
3. Play Musically to Empower Your Inner Musician
Another great money-making fun activities from home is to create a mini-concert at home with your family or partner, and perform musical pieces! Simply pick up any instrument and start singing your favorite songs.
Alternatively, many singers offer to write rap lyrics, cover songs, or jingles created by others in exchange for money. It can be a profitable side business, and some people make a full-time living off of Fiverr, so it's worth a shot.
Take a look at these one-of-a-kind musical sets:
---
4. Master Chef is on the way! Earn by Selling Recipes
Why not spend some time cooking or baking with your family or partner while earning some money? This is a budget-friendly stay-at-home activity that will bring you closer together while also teaching you patience, gratitude, and appreciation for the process.
A good recipe is a foundation for creating delectable dishes, which is why people continue to pay for unique and high-quality recipe ideas and cookbooks, despite the availability of thousands of free food recipes online. Individual recipes can be paid for.
Take a look at these fantastic recipe books:
---
Share Your Creativity, Sell Custom Shirts
Teesprings and Amazon Merch enable you to design and sell custom t-shirts with no hassle, no upfront costs, and no risk! You create and promote it, and they manufacture and ship it! Excellent for family reunions, sports teams, clubs, and parties!
5. Play and Have Fun!
With the increase in the number of people playing games, new opportunities to earn money through games continue to emerge. From video game blogs to YouTube channels to tech support, you can turn your love of video games into a profitable side hustle.
Consider using these apps if you don't want to be a professional gamer but want to earn some extra money each month by playing games. Swagbucks, KashKick, Secondlife, Pool Payday, World Winner, and other esports are available.
Consider these items to start with:
---
---
6. Clean, Simplify, Declutter and Make Real Money
In the midst of a virus outbreak, deep cleaning your house is one way to keep your entire family healthy. Get your antiseptic and disinfectant, and clean your entire house, even the places you probably don't clean very often.
Furthermore, decluttering is also an excellent way for families to discover new ways to earn money. Here are some simple ways to earn money while decluttering and simplifying your home: sell on craigslist, eBay, secondhand stores, or donate to charity.
Don't get too caught up in the price of things. The goal is to get rid of as many items as possible with as little effort as possible while still making some money, so keep that in mind.
---
Bonus Tips
7. Virtual Tours
You have a good chance of succeeding. You can become a virtual tour entrepreneur in a matter of weeks with a little planning and effort. Even if you have no prior experience, no portfolio, and no references. You can travel virtually, earn more money, and visit some places without ever leaving your home.
---
8. Create No Spend Money Challenges
You and your family can participate in a variety of no-spend challenges, but it is entirely up to you which one you choose. This is an excellent way to engage in stay-at-home money-making activities that you will never tire of.
We've compiled a list of a few:
The No Spend Week Challenge focuses on making small changes to your lifestyle habits.
The emphasis is on finding free activities to do with family or friends during the No Spend Weekend Challenge. There will also be no eating out, clubbing, or going to the movies.
No Spend Month Challenge: Emphasizes needs over wants. It is about breaking bad habits like impulse shopping and replacing them with cheaper (or free) activities in the long run.
---
These are our 8 Real Money-Making Fun Activities From Home. We hope you found this article interesting! We had a lot of fun putting together these useful and helpful hints for you.
Did you find the strategies mentioned in this article to be useful? What are some of your thoughts? How have they helped you? Tell us in the comments.
If you enjoyed this post, please subscribe or Get In Touch (on desktop) or scroll down (on mobile)! Not ready to make such a big commitment? To never miss out on anything at BudgetedLifestyles, follow us on one of our social media platforms!
If you enjoyed this article, share it with your friends, on Instagram, Pinterest, or Facebook. Thank You!
Need more help? Contact us at budgetedlifestyles@gmail.com or DM @budgetedlifestyles.
---
---
**This blog contains affiliate links, but all opinions are our own and we would not promote products that we haven't either a) tried ourselves or b) done our research on! Please see our disclaimer for more information.**