Worth the Splurge -Timeless Investment Items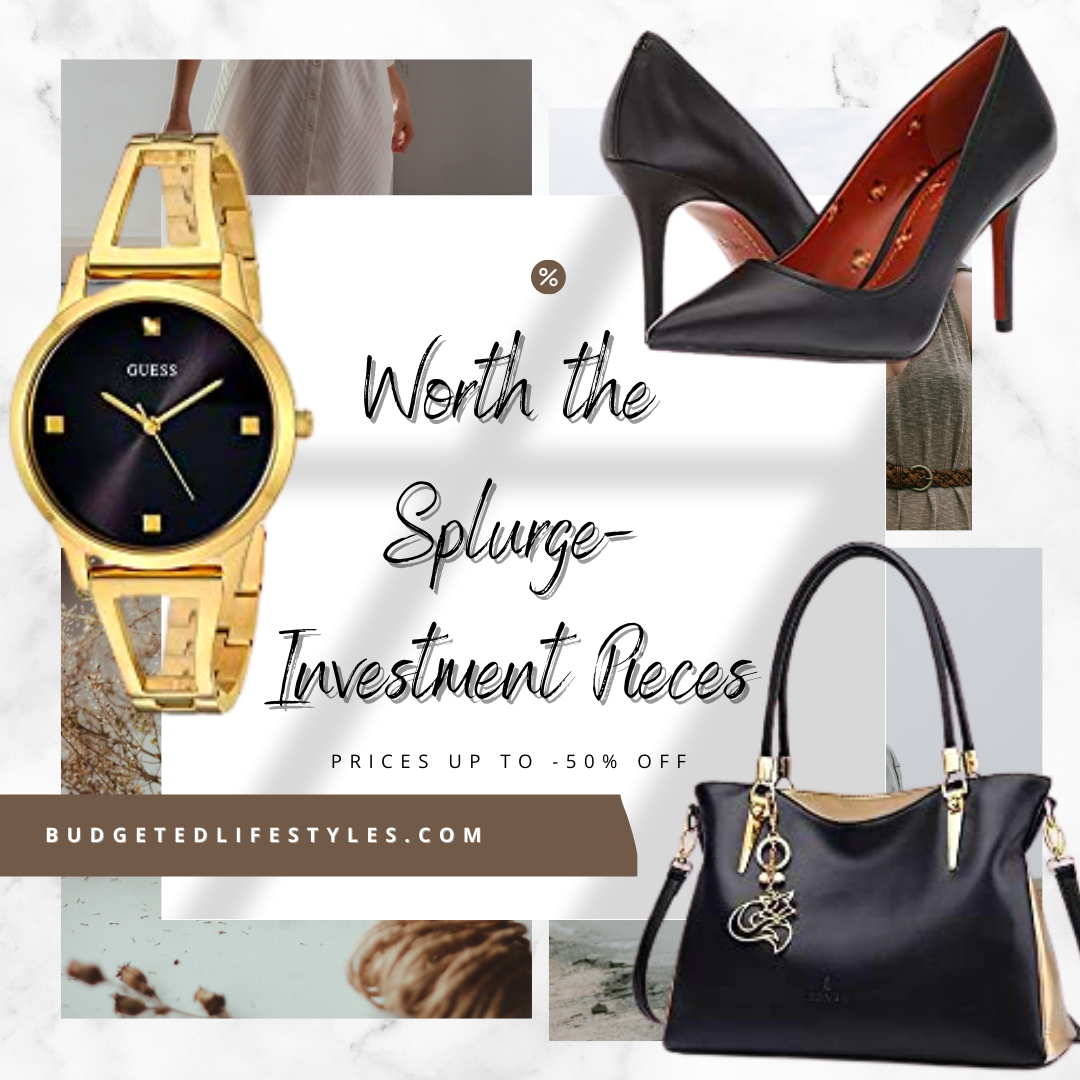 When it comes to choosing friends or making important life decisions, it is always better to choose quality over quantity. This same concept can be used when it comes to our wardrobe. We must admit, we don't always have the freedom to ignore the price tag and just go for it. Countless times, we have heard the argument, that it is difficult to splurge on investment pieces. Especially, when you can buy 10 shirts and a pair of jeans for the same price as a designer label.
We are all about our budget and saving money. But, we still believe that for some items in your closet, it's always best to invest in a few pieces that you love and will last a lifetime.
Here's our top 4 timeless investment pieces:
Jeans
Buying higher-quality jeans will last you longer and fit you so much better. The perfect pair of jeans should fit and complement your body shape. They'll also be so much more comfortable to wear whether you're relaxing at home or having a girl's night out. We have round-up our fav designer jeans, suitable for all occasions.
Shoes
Who doesn't love shoes? The perfect pair of shoes gives you the creativity, and flexibility to change the look of your outfit, even if you're wearing jeans and a sweatshirt. Plus, good quality shoes usually are easier on your feet and last a lot longer. We highly recommend buying neutral colors shoes, such as black, brown, navy blue, or white. Keeping it simple always looks more expensive and allows you to wear them more often!
Put some pep in your step with Calvin Klein Women's Gella Pump, the Coach Women's Waverly Leather Pump, the Steve Madden Women's Feather Loafer Flat, or Adidas Originals Women's Superstar Sneaker. These shoes offer flexible for extended wear, with signature gel pod inserts for comfort, support, and provides shock absorption with every step.
Top Quality Bag
A great investment bag offers versatility, while also complementing your wardrobe day and night. The perfect handbag is about the right size and spacious enough to carry all your daily needs. High quality bags also last longer and can handle the everyday wear and tear.
Make a statement with these top handbags picks: the Kattee Women's Genuine Leather Handbags, the FOXER Women Leather Tote Shoulder Bag, or LAORENTOU Genuine Leather Handbags.
Accessories
A beautiful accessory such as a watch is a statement piece and a functional accessory. The best part is its versatility, there is a style, color, and shape for everyone. Instead of sacrificing your personal style, you can polish off your outfit with an accessory that represents you best!
The best accessories are functional, never run late with these statement pieces. GUESS Gold-Tone + Black Genuine Diamond Watch with Self-Adjustable Bracelet, Michael Kors Parker Stainless Steel Watch, MVMT Boulevard Watch Gift Set , BERING Time Women's Slim Watch.
---
Knowing which investment pieces are worth the price tag will give you a great head start. Not only will these investment pieces pay off in the long run, and save you money, but you will be able to add different pieces overtime.
Did you find the strategies listed in this article helpful? What are some of your ideas? How have they worked for you? Let us know in the comments.
If you enjoyed this article, share it with your friends, on Instagram, or Facebook. Thank You!
Need more help? Contact us budgetedlifestyles@gmail.com or DM @budgetedlifestyles. Happy Shopping!
**This blog contains affiliate links, but all opinions are our own and we would not promote products that we haven't either a) tried ourselves or b) done our research on! Please see our disclaimer for more information.**
"Fashion is what you're offered four times a year by designers. And style is what you choose." – Lauren Hutton