Tips for Healthy Holiday Eating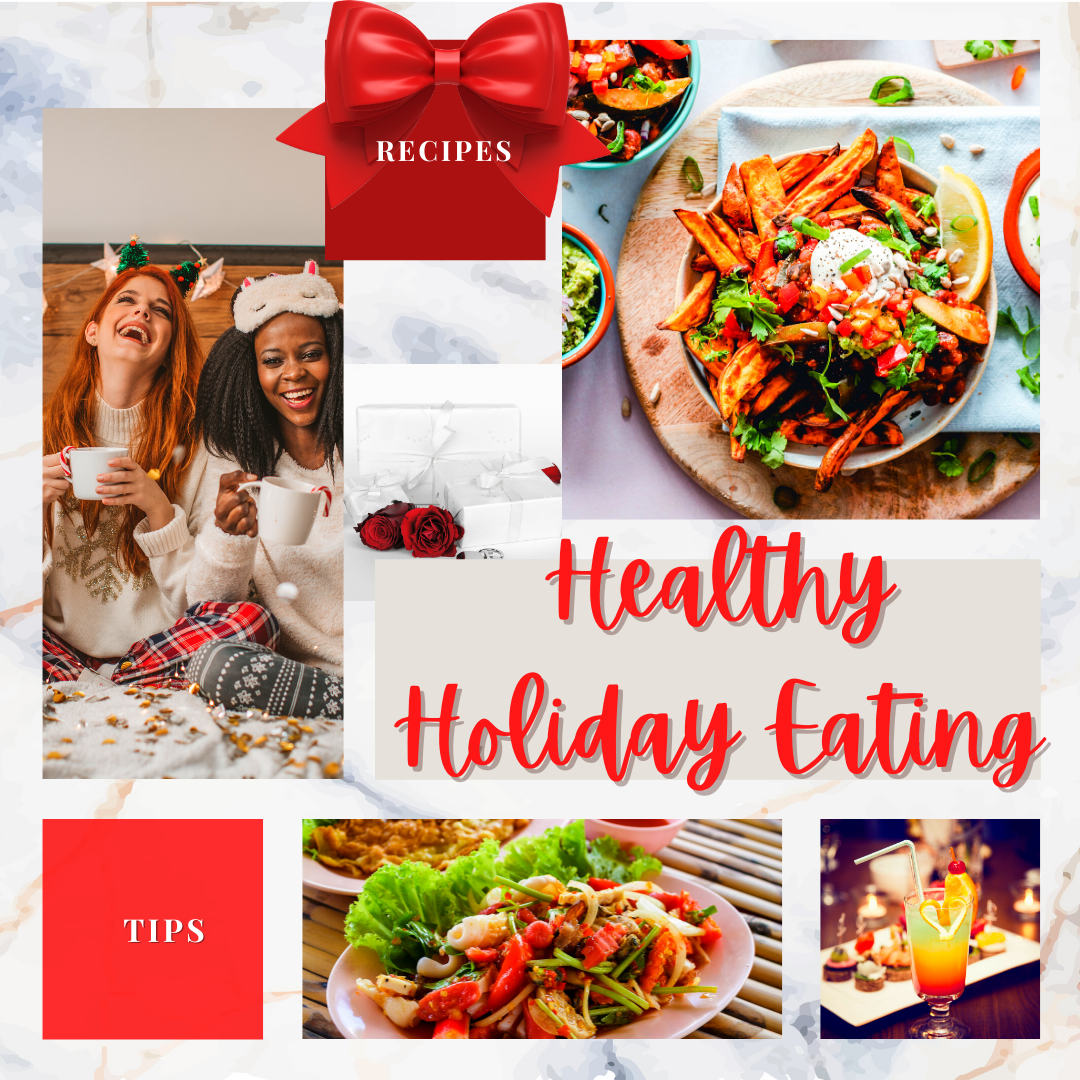 We are in the festive season, and it's time to celebrate with our friends and family. But the feasts and parties can really put a strain on your body. With all that said, you don't need to deprive yourself, eat only boring foods, or take your treats feeling guilty.
Instead, you can come through the holidays without making "go on a diet" one of your New Year's resolutions, as we all have done in the past.
We strongly recommend these easy tips that will help you stay healthy and mindful as you celebrate the holidays with friends and family. You can eat well and be well this holiday season, with these tricks and simple strategies.
---
Plan Your Healthy Eats
This is an important tip. Rather than focus on the specific holiday meals that are sure to have a high-calorie count, think about your overall eating patterns during the season.
Remember to make small mindful changes. How you eat every day sets the trend for your weight and health, so make healthy choices when and where you have more control, like at home and at work events.
---
Take a look at this meal prep container. The portion control feature of the divided glass lunch containers allows you to regain control over your meals. The two compartments glass containers make it easy to organize your meals and keep your diet plan.
Glass Meal Prep Containers 2 Compartments Portion Control, 16PCs Airtight Food Storage Containers
---
Eat in Moderation
Too much of one thing is never good. Enjoy holiday treats in smaller portions, make healthy substitutions where you can, and as we mentioned above – plan ahead for holiday meals that are healthy.
---
Distance Yourself From The Delicious Food Table
When we are invited to parties, we make a point of duty not to stand next to the food table. That makes it harder to mindlessly reach for food as we talk.
If you know you are prone to recreational eating, pop a mint or a stick of gum so you won't keep reaching for the chips. This tip saved us numerous times.
---
Don't Go To Any Event Famished
Before setting out for a party, eat something so you don't arrive famished. You can count on the soup to fill you up with low-calorie, nutrient-dense vegetables.
Another one of our favorites is pre-party snacks. These snacks combine complex carbohydrates with protein and unsaturated fat, like apple slices with peanut butter or a slice of turkey and cheese on whole-wheat bread.
---
Avoid Alcohol on an Empty Stomach
Alcohol increases your appetite and diminishes your ability to control what you eat.
---
Drink Flavored Water Instead for Wine
Having two or more glasses of wine can be like eating an extra dinner. Alcohol is the primary source of calories in wine. Thus, alcohol affects the calories in wine more than sugar. A bottle of wine (750ml / 25oz) contains approximately 600 calories. A typical glass of wine (5 oz) contains about 120 calories. Calories don't differ very much depending on the type of wine. We suggest, alternating a glass of wine with flavored water.
You are able to conveniently use at home, at work, on-the-go. Add as much flavor as you want and notice the great value, trust us, we've tried them.
Vital Proteins Collagen Water,  Natural Water Enhancer (5 Bottles, Makes 100 Flavored Waters) 
---
Why Not Exercise?!
We know that it is the busiest season of the year, but we recommend sneaking in some exercise. In light of current events, take into consideration being safe. Find little ways to stay moving, like busting out a plank pose or going for a quick walk. Also, try to plan family time around active get-togethers or fun activities.
You Have to Reward Yourself
We call this the feel-good season. Get your dopamine(the feel-good hormone) fix with other non-food-related rewards by, say, treating yourself to a massage, heading to a yoga class, taking a bath, watch your favorite movie, or carving out time to read a good book.
---
Fav Holiday Healthy Recipes Ideas
We rounded up a few recipes ideas.
Salt-and-Pepper Charred Green Beans

You won't believe how flavorful these green beans are with just a little bit of olive oil, salt, and pepper.
Composed Waldorf Salad

Give the classic fruit and nut salad a twist with sweet pomegranates and a delicious dressing.
Wild Rice and Cider-Cranberry Pilaf

Wild rice, which has more protein and fewer calories than white or even brown rice, is an excellent ingredient to include. And the nutty flavor is delicious!
Eggplant Ricotta Bites

Lightly breaded eggplant is sauteed instead of deep-fried, giving it crunch without excess oil. Parmesan-inspired appetizer with much less fat.
Roasted Brussels Sprouts with Pomegranate and Hazelnuts

Roasting Brussels sprouts brings out their nutty flavor; you can add pomegranate seeds, orange zest, and toasted hazelnuts to his roasted sprouts for a perfectly festive side dish.
Roasted Pork and Potatoes with Creamy Applesauce

Pork tenderloin is a lean cut of meat and a perfectly elegant choice for a holiday meal.
Roasted Garlic Clove Chicken

Juicy, herb-crusted chicken thighs make a comforting yet perfectly elegant main dish for a holiday celebration. The soft, roasted garlic cloves are excellent spread on fresh bread.
Scallop and Shrimp Cocktail

Tide holiday guests over with a spicy seafood cocktail made with scallops and shrimp. Zippy ingredients like lime juice, chile, and onion deliver lots of flavors but very few calories.
Vegan Potato, Pepper, and Olive Phyllo Cups

Finely chopped potatoes are quickly boiled, then mashed with olive oil and nutritional yeast to make a creamy, "cheesy" base for these low-fat, one-bite vegan appetizers.
Big Festive Salad

Candied nuts, homemade dressing, and a bounty of sweet fruit — what's not to love about this holiday-worthy salad?
Smoked Salmon Dip

This is the perfect make-ahead party dip. Ina says it tastes even better the day after.

One-Pan Italian Sausage and Veggies

Cook all your veggies and meat on one sheet pan, then just serve it over rice, quinoa, or any other grain for a simple lunch that has practically no cleanup.
Chipotle and Rosemary Roasted Nuts

You have sweet, salty, and spicy — they're all well-balanced
One-Pan Balsamic Chicken and Veggies

This recipe is all about the easy two-ingredient balsamic glaze. It gives the chicken a ton of flavor and a beautiful caramel color.
Vegetarian Spinach-Walnut Pâté

This vegetarian (in fact, vegan) dish is inspired by the country of Georgia's dish pkhali, spinach spread that can also be made with beets or mushrooms.
Like these delicious recipes? You can get all these recipes and more on the food network- Holiday Section.
---
Need More Options? Click on these options from Amazon.
---
These are our best tips for healthy holiday eating. We hope you all enjoyed this post! We had a great time rounding up these easy, delicious, and affordable tips and recipes for you, and now you're ready for every holiday event on the calendar.
---
---
Did you find the strategies listed in this article helpful? What are some of your ideas? How have they worked for you? Let us know in the comments.
If you did love this post, be sure to subscribe or Get In Touch(on desktop) or scroll down (on mobile)! Not ready to commit like that? Follow us on one of the social media platforms to never miss out on anything over at BudgetedLifestyles!
If you enjoyed this article, share it with your friends, on Instagram, Pinterest, or Facebook. Thank You!
Need more help? Contact us budgetedlifestyles@gmail.com or DM @budgetedlifestyles.
---
---
**This blog contains affiliate links, but all opinions are our own and we would not promote products that we haven't either a) tried ourselves or b) done our research on! Please see our disclaimer for more information.**
---