5 Casual Date Outfit Ideas That Are Unique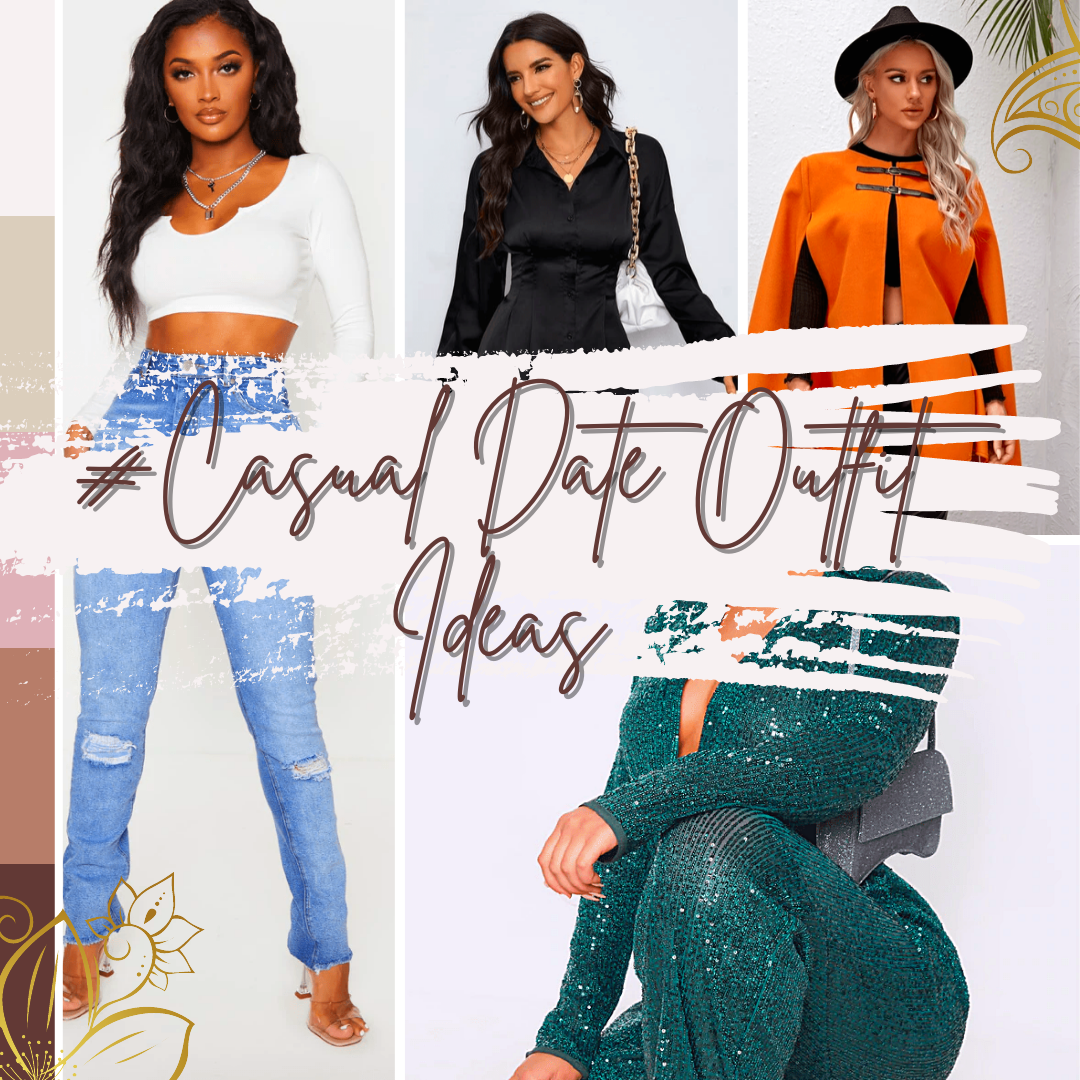 You are finally going out on a first date with that special person, or a night out with your long-term partner, and you just can't find the right outfit. It's a familiar scenario for all of us, we get stress, irritated as the time approaches for the date.
Don't Stress! We've got you covered.
When you want to look polished and a little flirty on a budget, refer to these casual date outfits ideas to help you get dressed in minutes. There's something everyone will feel confident in, no matter what your plans are.
We are not into basic clothes like that. These won't be casual outfits in the main sense of the word, but they're casual in the way that they're comfortable, easy to put on, and accessorize. All under $100!
We also threw in some awesome date ideas and you'll be able to find a date idea that is perfect for you, your date and outfit.
---
---
The easiest way to look polish and casual? Perfect Jumpsuit. The Emerald Green Sequin Collar Detail Long Sleeve Jumpsuit is ideal for semi-casual dates such as Wine Paint Night or Our Fav…. New Food Night (Trying out some new food items that you have no idea if you will like or not.) Yum! Click on the images for more info.
---
---
We love this suit because you only have one item of clothing to worry about. All you have to do now- focus on your accessories and shoes. How simple is that? These Jumpsuits fit like a glove and are right on-trend. Pair them with Clover Silver Metallic Strap Heeled Sandals, and you're good to go.
---
Want Simpler Jumpsuit?
These flattering and comfortable jumpsuits are the perfect clothing choice for women one-piece design can easily be dressed up or down. Perfect for date ideas to Party, Cocktail, Wedding, Sports, Yoga, Exercise, Travel, and Daily life, suitable for summer, Fall-Winter.
---
---
---
2. Back to the Basics. Dress up your Jeans
Denim is always trendy and can be sophisticated enough for dates—especially when paired with a simple top and a cool jacket in an unexpected shade. Pair this SHEIN Cutout Detail Rib-knit Form-Fitted Tee. with blue, white, or black jeans. Click on the images for more info.
---
---
These tops are ideal for simple date ideas such as Botanical Garden (Walk and talk for hours) or Head to a Happy Hour (where you both can enjoy cheap drinks and chit chat.) or Hosting a Movie/TV Watch(  it's a great way to participate in a shared love) or Hit Up a Karaoke Bar ( it's more about enjoying the moment and showing your personality.)
---
Need more options? Try these:
---
---
---
Wear this Drop Shoulder Fold Pleated Detail Shirt Dress or a simple black dress on any date. Black is always in season, and feminine dresses are a great example of how to make a simple look work. It's comfortable enough to take on the town, while the short length shows a hint of skin. Click on the images for more info.
---
---
Perfect date idea for this outfit: See Live Music Show, Grab Brunch, or Adventurous Meal (enjoy a little cultural adventure and learn some things about each other's willingness to take risks) or on a (Mini) staycation (Dress up and just get away from your daily routine. Treat it like a real vacay, with fun local food, snacks, and sightseeing.)
---
---
Who doesn't love heels? High heels immediately come to mind when you're putting together a casual outfit. If you require a little extra height, try pairing them with a relaxed pair of boyfriend jeans. The heels will feel instantly cooler when contrasted with something a little low-key. Click on the images for more info.
---
---
Best Date Idea for this outfit: Stand-Up Comedy Show (Laughing releases endorphins, which sets a great tone for the night.) take a Scenic Drive (If you really vibed on the first date or want to alone time beyond your neighborhood or city, plan a scenic drive somewhere with great views.
Want some more fun? Go get some delish ice cream- don't just drive/walk to get ice cream—compete to see which one of you can craft the most delicious/ridiculous concoction, then race to eat them before they melt.
Need some shoes inspiration? Try These: (Click on the images for more info or to buy)
---
---
---
A sweatshirt tends to be our go-to top when we're at home lounging, but contrast it with a sophisticated miniskirt for an outfit that hits the perfect balance and is easy to throw together too. Click on the images for more info or to buy.
---
---
Perfect date idea: Go to a local festival or fair, Kick Back at an Arcade, Watch an Outdoor Movie, or Cook Dinner Together. This laid back outfit is also great for a Karaoke Bar ( it's more about enjoying the moment and showing your personality and vibe.)
---
---
**Bonus **
Need to send some outfit ideas to your guy? These are perfect for any date idea, plus who doesn't love a man in Sweats! Click on the image for more info and options.
---
---
**Extra Tips**
What makes a Perfect date ?
1.Location, Location, Location. We believe that a casual environment serves as a convenient space to have an engaging conversation, where you can focus on getting to know each other or reconnecting.
2. Studies show that if you're going on a date, opt for an interesting conversation starter. People are more attracted to dates who spark conversation topics that show they are curious, intelligent, and cultured.
Here are four great questions from Psychology Professor Dan McAdams list:
If you could wake up tomorrow having gained one quality or ability, what would it be?
What's your most treasured memory?
What is the greatest accomplishment of your life?
What do you value most in a friendship?
3. Look at How You Present Yourself- A picture is worth a thousand words. The pictures you post, or the way you dress, it's important to understand the entire picture of what you're putting out there. Is that picture truly your best self?
4. Finally, please be interesting. It sounds simple, but The key to being interesting is to be interested. Curiosity is exciting! Be someone who's curious shows their innate intelligence and zest for life.
---
---
We hope you all enjoyed this post! We had a great time rounding up these cute, practical, and affordable outfits for you and we hope they inspired you to find a fun outfit that's great for your date activities.
---
---
Did you find the strategies listed in this article helpful? What are some of your ideas? How have they worked for you? Let us know in the comments.
If you did love this post, be sure to subscribe or Get In Touch(on desktop) or scroll down (on mobile)! Not ready to commit like that? Follow us on one of the social media platforms to never miss out on anything over at BudgetedLifestyles!
If you enjoyed this article, share it with your friends, on Instagram, Pinterest, or Facebook. Thank You!
Need more help? Contact us budgetedlifestyles@gmail.com or DM @budgetedlifestyles.
---
**This blog contains affiliate links, but all opinions are our own and we would not promote products that we haven't either a) tried ourselves or b) done our research on! Please see our disclaimer for more information.**
---
I want someone who can make me laugh and just be normal and understand my lifestyle and how I wanna live it.

Selena Gomez