10 Best New Year's Resolutions Ideas 2021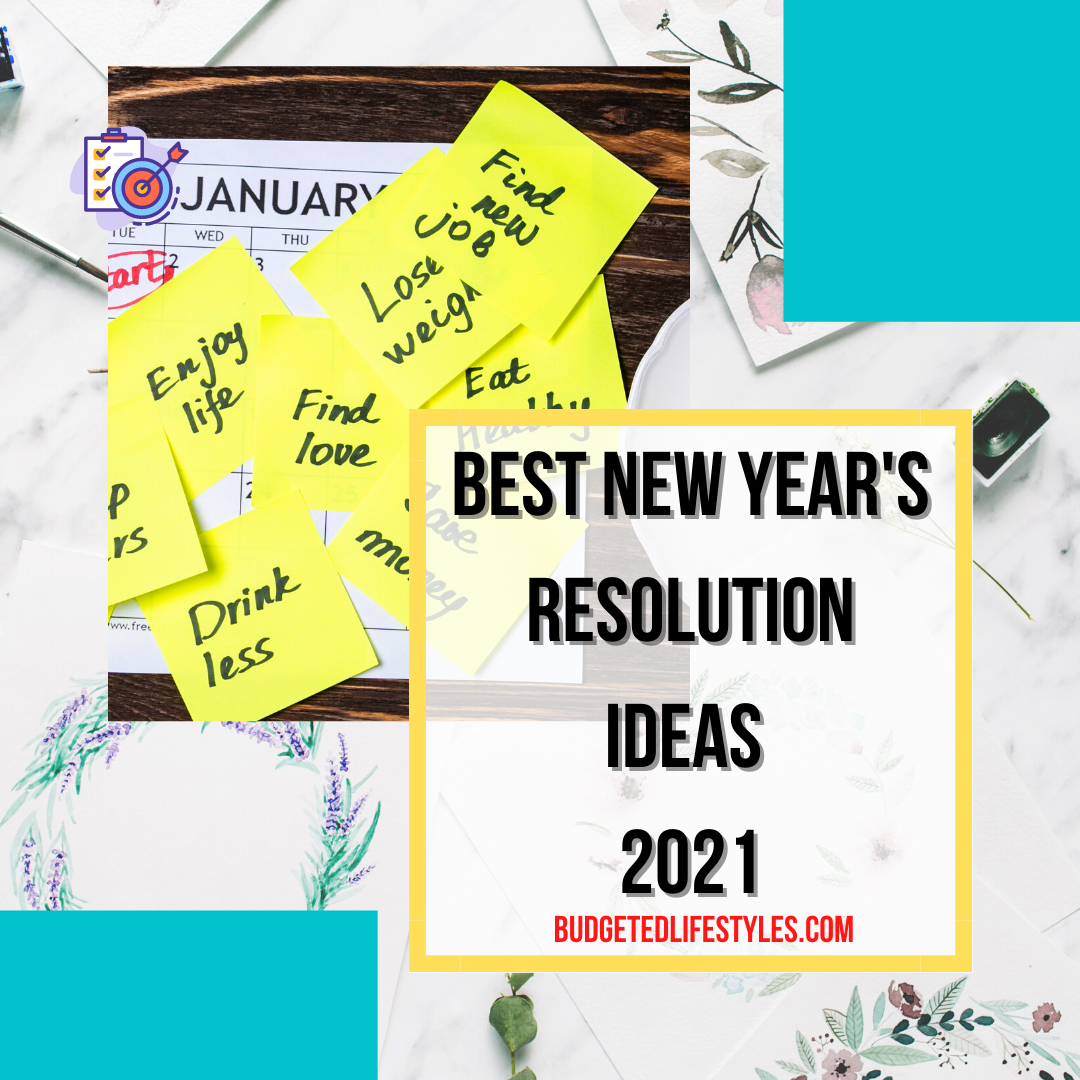 The 2021 New Year may seem a little different considering the challenges of 2020 and the inability to come together and adjusting to our new normal. For many of us, the New Year puts more emphasis on long-term objectives than our busy lives typically allow.
This pandemic has not only served as a visceral reminder that something unexpected can happen in our well-envisioned path, stopping all progress. It has also made the path beyond the pandemic so very unclear.
We have to admit that most of the time we're going to be focusing on the short-term day-to-day requirements in mid-January. So it's helpful to consider our long-term aspirations and start with 10 Best New Year's Resolution Ideas 2021.
**Click on the images for more information.**
---
Create a Better Budget
If there is a New Year's resolution that is the most important and that will help you the most over the long term, it is to promise to save more money. Every great financial plan starts with a sound budget. If you're trying to pay off bills or save for a dream vacation, a budget is your first step toward making your financial goals a reality.
Take a look at these incredible books that will help you get started.
---
Start Eating Healthy Food and Create New Dish Every Month
For most of us, changing unhealthy eating habits is a major task. Clean eating isn't about abiding by a strict set of rules―it's about incorporating more real food into your diet and establishing healthy habits that help you look and feel your best.
We all know that getting balanced meals on the table during a busy day can be a challenge. Simplify your life with The Easy 5-Ingredient Healthy Cookbook. With more than 150 recipes that use only a handful of ingredients, you can create a wide variety of flavorful, nutritious meals. Healthy eating should be varied and delicious.
For the New Year, we recommend that you maintain healthy food in easily accessible and visible locations in your home and workplace.
---
Read More Books
Everything you read fills your head with new bits of information, and you never know when it might come in handy. The more knowledge you have, the better-equipped you are to tackle any challenge you'll ever face in the New Year.
---
Start Journaling or Write to Yourself
It'll help you express yourself, think ideas through, and create a record of your life in the New Year. If you want to practice journaling, write a short entry at the same time every day. Or even just once a week.
Click on the images for more information.
---
Start Volunteering
Volunteering is a great way to get involved in your community and make a difference in the New Year. Additionally, offers personal benefits, including improved wellbeing and decreased stress.
---
Start Exercising
Many of us struggle to get out of the sedentary rut, despite our best intentions. While practical concerns like a busy schedule or poor health can make exercise more challenging, for most of us, the biggest barriers are mental. There are always steps you can take in the New Year to make exercise less intimidating and painful and more fun and instinctive.
Why pay for an expensive gym membership when you can get the SAME results from your living room? Tone, shape, and firm your whole body: Effortlessly sculpt your upper and lower body with eight different attachments to tone and shape. Also, check out the 12-Pack Laminated Large Workout Poster Set – Perfect Workout Posters For Home Gym 
---
Explore New Hobbies
If you're also looking for ways to ignite your creativity this New Year, find a different way to entertain your soul, and be intentional with your "me" time, you might want to try picking up a new hobby.
---
Give Yourself a New Look
What better way to start the New Year than with a new look. Making small changes can help you with a quick makeover, while changing some of your habits, like exercising regularly and eating well, can help achieve a more dramatic makeover.
---
Develop a New Skin Care Routine
The goal of any skin-care routine is to tune up your complexion so it's functioning at its best, and also target any areas you want to work on. We recommend using our favorite tip this New Year: With any skin-care product, apply in order of consistency — from thinnest to thickest. For example, cleanser, toner (if you use it), serum, and then moisturizer.
---
Improve Your Confidence
This New Year, aim to be more confident. Being confident is nothing more than a belief in yourself. It's the feeling of certainty that you can accomplish whatever you set your mind to. Confidence comes from within not from others, and you can find ways of being more confident at any time.
---
Finally, for those who cannot resist thinking about long-term goals, in spite of the uncertainty, this pandemic year has brought to the world, you could review what you learned during the pandemic. Long-term resolutions could be based on the consideration of three things:
What should I take away from the changes I've made to address the pandemic?
What is it that I want out of the pre-pandemic era?
What changes will I make to help deal with problems going forward?
Each of these elements will demand a long-term goal and can help you envision a new ideal self for the post-pandemic period.
---
We hope you all enjoyed this post, 10 Best New Year's Resolution Ideas 2021. We've had a great time gathering these practical ideas for you and hope they inspire you to make lifestyle changes and accomplish all your goals.
---
Have you found the strategies listed in that article useful? What are some of your ideas? How have they worked for you? Let us know in the comments.
If you did love this post, be sure to subscribe or Get In Touch(on desktop) or scroll down (on mobile)! Not ready to commit like that? Follow us on one of the social media platforms to never miss out on anything over at BudgetedLifestyles!
If you enjoyed this article, share it with your friends, on Instagram, Pinterest, or Facebook. Thank You!
Need more help? Contact us budgetedlifestyles@gmail.com or DM @budgetedlifestyles.
---
**This blog contains affiliate links, but all opinions are our own and we would not promote products that we haven't either a) tried ourselves or b) done our research on! Please see our disclaimer for more information.**
---
It's never too late to try something different.
---