5 Budgeting Mistakes You Might be Making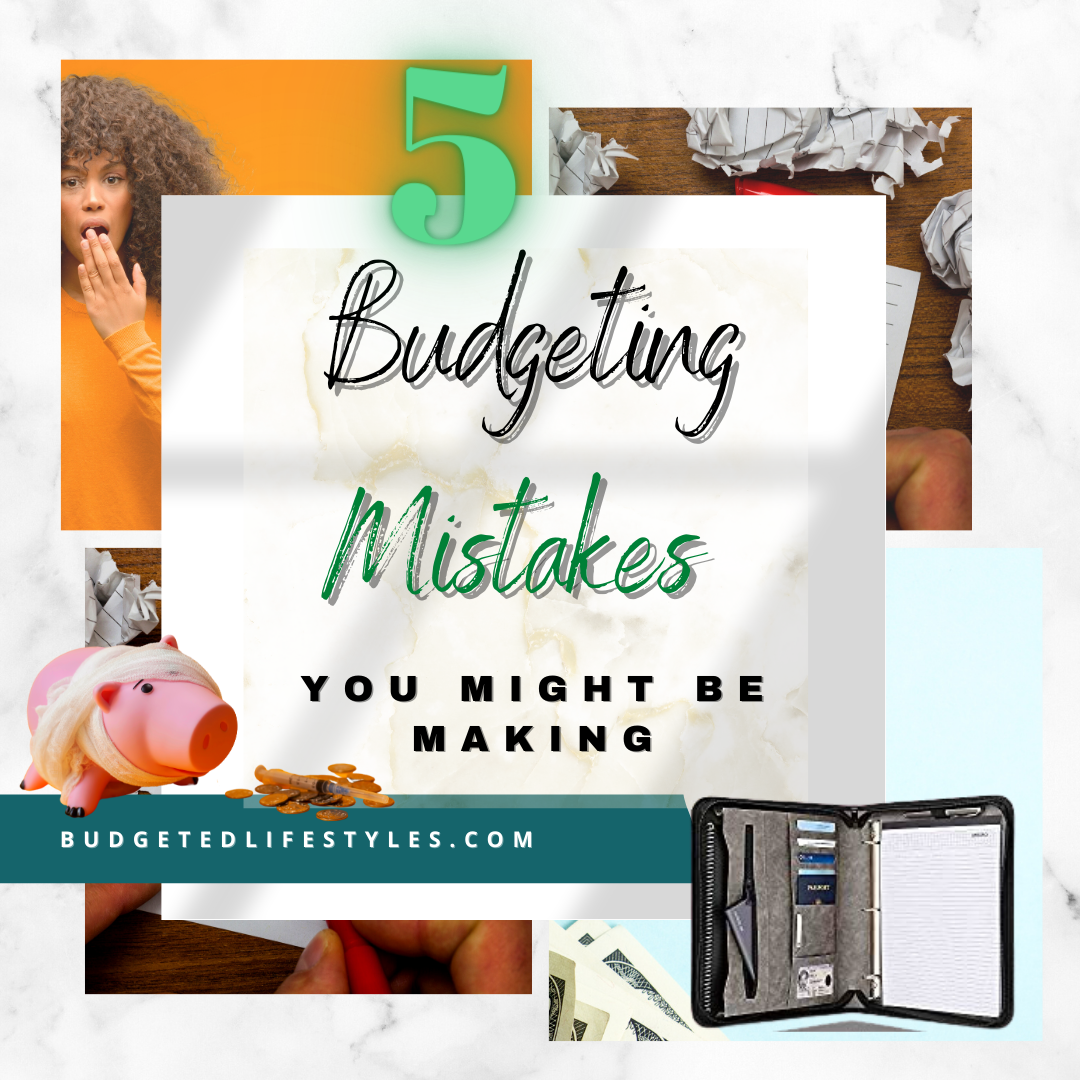 We've noticed over the years that so many people don't even realize that there are mistakes they're making that end up costing them a fortune. Many times, at the end of each month, you might find yourself either over budget or at a complete loss as to where your money had gone.
Budgeting is the key to a healthy and stable financial future. However, many people can testify; that setting a budget doesn't mean you're automatically going to find success. We are here to help, if you need further assistance with starting your budget, please don't hesitate to contact me.
Here are five of the most common budgeting mistakes we see people make without even realizing it.
Having an Unrealistic Budget
The first budget we created was a total flop. It's so easy to go a bit overboard when first creating a budget. There's that drive to be perfect and save as much money as possible, so you may end up finding yourself setting some unrealistic goals.
We came up with this tip: Prioritize your spending categories. Figure out which categories are important to you, and the ones you can cut back on. Cut back gradually at the beginning, so you can get a feel for what works and what doesn't. You may even find yourself saving more than you bargained for!
Following a Specific Budget Every Month
You want to be realistic about your spending habits while trying to make them fit your lifestyle. In reality, everything changes, and not taking into account how your spending changes each month is a recipe for disaster.
We came up with this tip: Planning and budgeting go hand in hand. Take the time to plan your budget on the last day or the first day of each month, rather than relying on your last month's budget.
Not Having Back-Up or Emergency Funds
An emergency fund is simply money you've set aside for life's unexpected events. Time and time again, we have found ourselves need cash unexpectedly. There are always unforeseeable factors in our lives that we simply can't predict when creating a budget. That's why we are a strong believer in the importance of having a back-up or an emergency fund.
Dave Ramsey stated, "if you're a one-income family, you're self-employed, or you earn a straight commission, then a six-month emergency fund is probably a better idea for you since a job loss could make you unable to pay the bills."
Failing to Write Down Budgeting Goals
Writing may seem time-consuming and exhausting, but it will make setting new budgets each month that much easier. Using a budget planner gives you the ability to have a written log of your expenditures. This will help you keep track of your habits, so you can pinpoint what is and isn't working for you.
Quitting Too Soon
How many people do you know that speak often of something prestigious they want to be, or starting a budget, and yet never actually take the necessary steps? It's only natural for you to expect immediate results when it comes to your finances. But, all good things take time don't get discouraged, and give up. Think of budgeting like painting a picture. You have a big goal, but it takes small steps to get there.
---
Just remember that budgeting takes time, and some tweaking, to get it right. You can't be expected to be perfect at anything on the first try!
The best goal-setters know that failure is nothing more than a lesson in disguise. In fact, a quote we live by is, "There are never mistakes, always lessons." This is the motto for the path of true mastery.
Mindset is everything, and with a positive frame of mind, you will succeed. For further assistance, please don't hesitate to contact me.
---
Our Fav Budgeting Tools
Whether you're treating yourself or thinking about a friend, consider these budgeting tools ideas that will help you on your journey.
---
Did you find the strategies listed in this article helpful? What are some of your ideas? How have they worked for you? Let us know in the comments.
If you enjoyed this article, share it with your friends, on Instagram, or Facebook. Thank You!
**This blog contains affiliate links, but all opinions are our own and we would not promote products that we haven't either a) tried ourselves or b) done our research on! Please see our disclaimer for more information.**
Need more help? Contact us budgetedlifestyles@gmail.com or DM @budgetedlifestyles.
"Too many people spend money they haven't earned, to buy things they don't want, to impress people that they don't like."

– Will Rogers